Optical Explorer - Industry's first optical fiber multimeter
Innovation at work
Optical Explorer is more than an improvement of existing fiber optic test equipment—it represents a groundbreaking new approach to fiber installation, turn-up and repair. The kind of innovation that only EXFO—backed by 37+ years of fiber optic testing expertise—can deliver.
Any singlemode link up to 40 km (point-to-point)
FTTx last mile installation

FTTx service activation and repair, including in-service testing

Last mile/access network installation and repair

Fiber health check-up

Power level testing

Insertion loss and ORL testing

Fiber-break location

Fault identification and location (splices, connectors, macrobends)

Cut hidden costs to reduce total cost of ownership (TCO)
Hidden costs throughout a product's life make up a massive, yet sometimes overlooked, part of TCO. And it includes more than just the initial purchase price. 
Optical Explorer's lifetime calibration, patent-pending click-out optical connector and field replaceable battery empower field techs to do more directly from the field, cutting costly downtime and logistics associated with factory-based updates, maintenance and repairs.
Search out potential faults, don't waste time on good links
During the optical link verification process, the Fault Explorer feature automatically explores only those links suspected as faulty—eliminating any doubts while saving testing time.
Within five seconds, Fault Explorer will display IL, ORL and length on good links while tracking suspicious events. Technicians get the chance to solve problems on the spot, without escalation.
Validate link quality in seconds, get a 1 to 5-star rating
Just because a link's individual elements pass inspection, doesn't guarantee that link was constructed according to industry best practices. 
With the built-in EXFO Advisor feature, techs get the benefit of EXFO's 30+ years of fiber expertise and sophisticated algorithms at the push of a button, assigning ratings to links based on industry best practices. It's a qualitative assessment of fiber link health that looks at how efficiently and robustly a link is built.
Share
View full details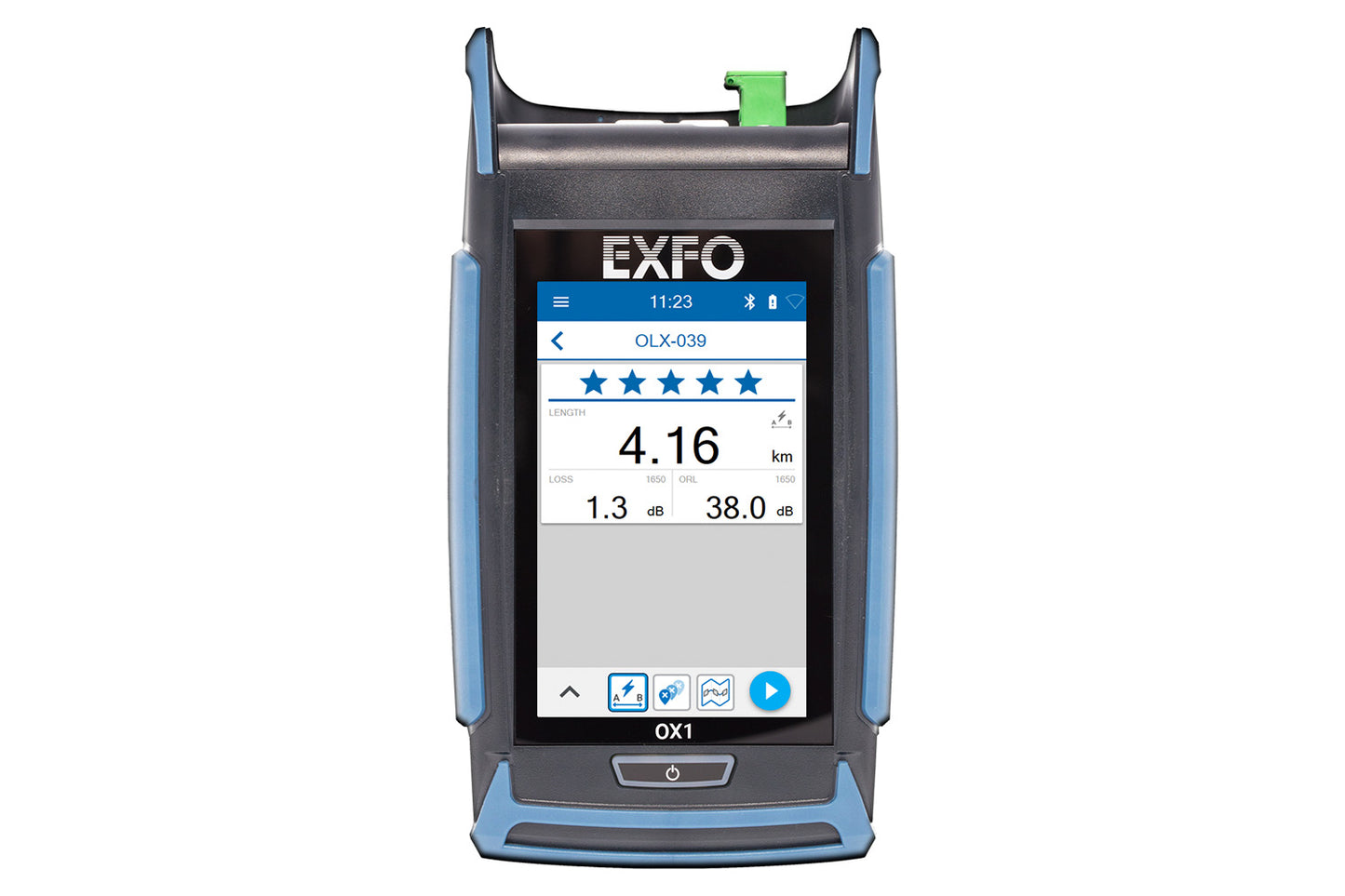 Lab equipment

EXFO develops smarter tests, monitoring and analytics solutions for the global communications industry. They are trusted advisers to fixed and mobile network operators, hyperscalers and leaders in the manufacturing, development and research sector. Building on 35 years of innovation, EXFO's unique blend of equipment, software and services provide faster, more confident transformations related to 5G, cloud-native and fiber optic networks.

Trust

When we say "our solutions match or exceed industry leading tier 1 manufacturers, rigorously engineered and tested", we need our tests equipment to be the same. Precision and reliability are not a feature but a necessity. EXFO Facts: +95% of the top CSPs worldwide use EXFO solutions, 5000+ quality audits of service and performance and No.1 worldwide in fiber optic test solutions